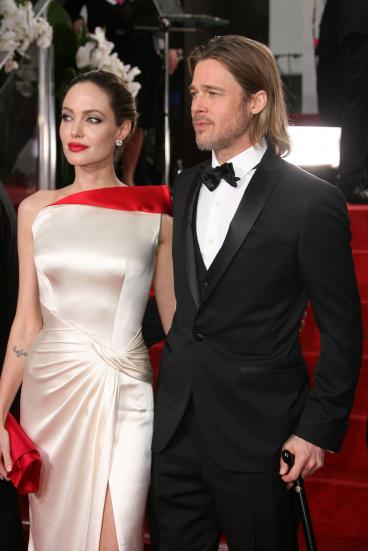 This level of perfection is ridiculous. Brad and Angelina.
Foto:
The Hollywood Gossip
Anne Hathaway en Armani Privé
Ya dos días despues de los Golden Globes, resulta un poco redundante seguir hablando de lo que fue la moda en la alfombra roja, ya se establecieron los obvios ganadores y perdedores de la noche; sin embargo, aquí puedo condensar rápidamente lo que fueron algunas apreciaciones de la comunidad de los bloggers de moda que se unieron para comentar acerca de los atuendos de la noche. Lo más divertido es compartir distintas opinones, no olvides dejarnos la tuya.
Angelina Jolie y Brad Pitt en Atelier Versace
Hugh Dancy en Burberry, Claire Danes en Calvin Klein Collection
.
De manera unánime alabamos el look de Anne Hathaway, vestida de Armani Privé, moderna, fresca, fashion foward, simplemente perfecta. Otras acertadas de la noche fueron las minimalistas Emma Stone y Claire Danes en Calvin Klein. El traje de Angelina Jolie le encantó a muchas de las fashion bloggers, mi única objeción fue que me pareció un vestido para una señora un poco mayor, (
sorry
mi opinión solamente). Se habló de Olivia Wilde, January Jones, Sofía Vergara, Leighton Meester, Piper Perabo, Lea Michele y Scarlett Johansson como ganadoras de la noche también.
Olivia Wilde en Marchesa y zapatos de Christian Louboutin.
Emma Stone en Calvin Klein Collection
Algunas amaron el traje de Julianne Moore (Lanvin); el color era hermoso pero el atuendo la hacía lucir mayor de lo que es.
Julianne Moore en Lanvin
La mayoría coincidió que los trajes memorables (no de buena manera) fueron los de Christina Aguilera (hallaca mal amarrada a mi parecer), Michelle Williams, Halle Berry, Tilda Swinton y Helena Boham Carter. Particularmente no culpo tanto a Helena, ¡ella es así! Seguro se lo pone Lady Gaga y todos dicen que es lo máximo. Tilda, tiene su estilo y es fiel a eso; sin embargo no hubiera escogido ese look para unos Golden Globes. Hay que entender quién lleva el vestido, tomar en cuenta su estilo personal y su figura, Tilda no era "best dressed", pero estaba elegante a pesar de todo. El vestido de Michelle Williams, Valentino, lucía como una cortina de baño. Halle Berry sigue en personaje con su traje de gala gatúbelo.
Hally Berry en Nina Ricci
Helena Boham Carter en Vivienne Westwood
Tilda Swinton en Jil Sander
Christina Aguilera en Zuhair Murad
Bad hair happens to good actresses: Annette Bening un poco electrocutada y la pollina de perro ovejero de Sandra Bullock.
Annette Bening electrocutada en un vestido de Tom Ford junto a Warren Betty
Sandra Bullock Jenny Packham.
No importa qué vestido luzca quién, que traje lleve Brad Pitt o Johnny Deep, de igual manera sabemos que el mejor de la noche es
Edgar Ramírez
, felicidaes por todos sus éxitos, eres un orgullo para Venezuela.
Las fotos son de
style.com
y pueden ver los demás looks
aquí
y en
www.goldenglobes.org
Publicado por

Gra.
en 1/18/2011 07:37:00 PM


On the occasion of the 68th annual Golden Globe ceremony, American actress Jennifer Lawrence, nominated for Best Performance by an Actress in a Motion Picture- Drama, wore a Louis Vuitton gown in black color and silver reflects silk organza with cascading ruffles and drapes.
The ruffles are embroidered with silk organza ribbons. This evening gown reveals the unique savoir- faire of the house and required over three hundred hours of work in the atelier in Paris.
American actress Leighton Meester was carrying a Louis Vuitton Minaudiere in leather and metal.
Stay tuned for more Golden Globes red carpet fashion.