La actriz Yao Chen en la premiere "The Hobbit: An Unexpected Journey" en Nueva Zelanda el pasado 28 de noviembre.
Fashion designer Georges Hobeika talks about his sport inspiration for day wear and new high fashion pieces for businesswomen at his Rue Royale showroom
. --->
Publicado por

GRA
en 12/15/2011 06:46:00 PM


Antheia Reborn
Muse of legend and inspiration of timeless feminine grace, Greek goddess Antheia is the inspiration for Georges Hobeika's
Fall-Winter 2011-2012 Couture Collection. Emulating this mythical bearer of blossoms that beautifully adorns the vase of Aphrodite, this collection translates the essence of nature's flowering perfection and gracious strength with its unique silhouettes and passionate palette.
Expressions of the goddess in every woman, mushroom pleats and romantic lace accent layers of fine organza, crepe and georgette that are presented in emotional hues of purple and pink melted into clouds of moon grey that paint an October sunset.
Jennifer Lopez is iconic in Georges Hobeika for UCLA Longevity Center's 20th Anniversary ICON Awards. Lopez took the stage in a nude cocktail dress with sequin waistline and geometric cutouts from Georges Hobeika's Spring/Summer 2011 Signature Collection as she presented Jane Fonda with this year's 2011 ICON Award.
Jennifer Lopez vistió un hermoso traje de Georges Hobeika de la colección Primavera/Verano 2011 para el UCLA Longevity Center's 20th Anniversary ICON Awards. La cantante entregó a la lengendaria Jane Fonda el ICON Award de este año.
Kim Kardashian selects Georges Hobeika Couture for her US Musts feature in US Weekly magazine. Kim looks ravishing in a white gown with plunging neck line from Georges Hobeika's Spring Summer 2011 collection.
Kim Kardashian seleccionó un traje de Georges Hobeika colección Primavera/Verano 2011 entre sus imprescindibles, para la revista US Weekly.
Este diseñador nacido Beirut y establecido en París, ha hecho honor a lafigura femenina con sus sublimes trajes desde hace ya más de 20 años. Ha vestido a celebridades como Jane Fonda, Eva Longoria, Jennifer López, Hillary Swank , Rihanna y Ashley Judd entre otras.
Publicado por

Gra.
en 5/30/2011 04:03:00 PM


All the looks from the Georges Hobeika Fall Winter 2011 collection in extra large size.
small size
Para quienes no lo conocen, Georges Hobeika es oriundo de Beirut, se graduó de ingeniero civil y además completó su formación con estudios en Arquitectura. Descubrió su pasión por la moda ayudando a su madre en sus labores de costurera. Entre otras cosas, se encargaba de ilustrar los vestidos y se volvió indispensable para el funcionamiento del taller.
En 1994 buscó entrenarse en París y consiguó hacerlo nada más y nada menos que en la casa Chanel. Después de varios años de arduo trabajo, logra su puesto en la semana de la moda de París en el año 2001 y desde entonces sigue mostrando sus colecciones en el evento más importante de la moda francesa.
Esta es su más reciente colección Alta Costura Primavera Verano 2011, es tan hermosa que Eva Longoria ya lució uno de estos vestidos en los pasados SAG Awards. También pueden encontrar estas imágenes y colecciones anteriores en su página web.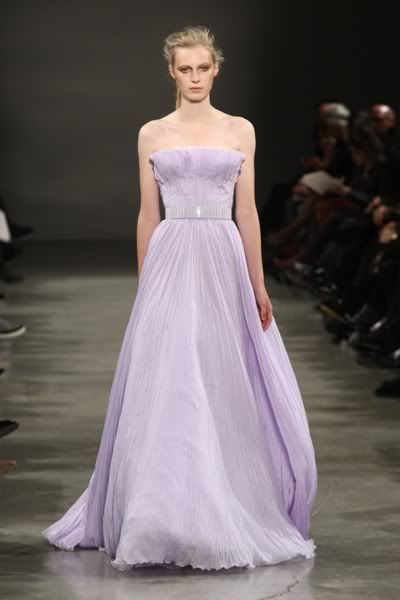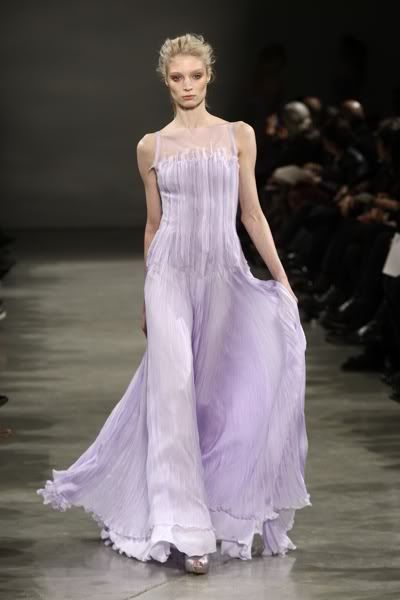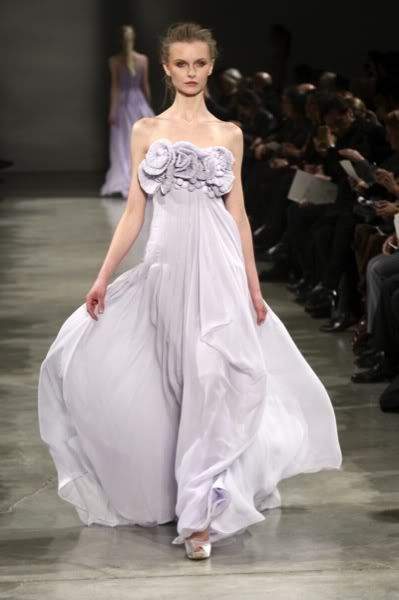 Los Angeles, le 30 janvier 2011- Georges Hobeika habille Eva Longoria au 17e Screen Actors Guild Awards.
Los Ángeles, 30 de enero. Georges Hobeika viste a Eva Longoria para la 17º entrega de los Screen Actors Guild Awards.
L'actrice portait une robe longue grège en mousseline de soie froissée, drapée aux hanches, de la toute nouvelle collection Couture Printemps-Eté 2011.
La actríz llevó un vestido largo crudo en muselina de seda plisada, drapeado en la cadera, de la nueva colección Couture Primavera Verano 2011.
Publicado por

Gra.
en 1/31/2011 04:50:00 PM