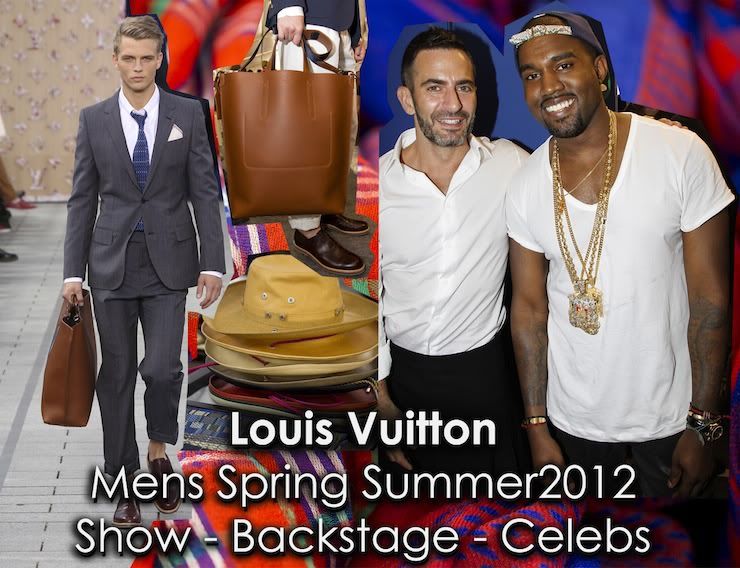 Disfruta de esta nota especial con toda la cobertura de lo que fue el desfile masculino primavera verano 2012 de Louis Vuitton, el backstage y la celebridades que estuvieron en la primera fila:
A journey, both literal and metaphorical, is at the heart of Louis Vuitton's Spring-Summer 2012 collection. "At its simplest level, it is about the idea of travel and what it means at this point in time," explains Kim Jones, the Men's Style Director, who will sign his debut collection for Louis Vuitton under the Artistic Direction of Marc Jacobs. "After all travel forms the foundation of the Vuitton brand. This is a fundamental part of the lineage and language of Louis Vuitton and is a central component of what it stands for today," continues Jones. "At the same time, the collection is looking at the idea of a personal journey. It forms the notion of a coming-of-age through exploration and travel."
Un viaje tanto literal como metafórico es el corazón de la colección masculina de Louis Vuitton Primavera-Verano 2012. "En su nivel más simple, es acerca de la idea de viajar y lo que significa en este punto en el tiempo," explica Kim Jones, el nuevo
Style Director
(director de estilismo) quien firmó su colección debut para Louis Vuitton bajo la Dirección Artística de Marc Jacobs. "Después de todo, viajar constituye la base de la marca Vuitton. Ésta es una parte fundamental del linaje y el lenguaje de Louis Vuitton y es un componente central el cual representa hoy en día," comenta Jones. "A su vez, la colección contempla la idea de un viaje personal. Forma la noción de alcanzar la madurez a través del viaje y la exploración.
DESFILE
Peter Beard, el artista y cronista durante años del Este africano y su vida salvaje fue uno de los temas que inspiró a Kim Jones para esta colección. "Es uno de mis héroes", comenta Jones. Esto es un saludo a él y una imagen llevada a la ficción de ese periodo cuando viajó a África en los años sesenta y setenta. Al mismo tiempo, crecí en África y es un tema al que recurro con frecuencia. Es también acerca de la manera como los hombres viven su vida, viajan y llegan a la madurez ahora con un punto de vista práctico de lo que quieren llevar.
DETALLES
Esta temporada está enfocada en el despreocupado, práctico y lujoso estilo de vida del viajero moderno, Toma en cuenta el valor por las piezas tradicionales y el enfoque contemporáneo al vestir y crea un puente entre los dos.
BACKSTAGE
CELEBS
www.louisvuitton.com
Traducido por : Graciela Martín @descosido_
Agradecimientos a Blue Press Service